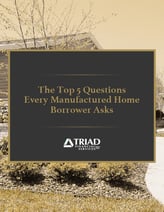 Manufactured Home Dealers: Are you prepared to answer important questions a potential borrower will ask you?
Manufactured home borrowers have lots of questions. If you respond with clear, prepared answers, the borrower is much more likely to feel more confident about working with you. The problem is: How can you know what they will ask?
This free guide will help you:
Prepare for a meeting with a potential home borrower
Expect many of the questions the borrower will most likely ask
Respond confidently with answers to these questions
Ready to start learning? Fill out the form to download the guide.